Four generations of Hanoi's finest silk & embroidery tradition.

Tradition is preserved throughout 4 generations for high quality hand embroidery products, Tan My is the destination for beautiful hand-embroidered fashion.The special quality of Tan My embroidery products is all done by hand, by a team of highly skilled artisans working exclusively for Tan My to ensure that the best quality of embroidery pieces.

Started from the difficult times of the war in Vietnam with handkerchiefs embroidered to address the love words of the girls sent to their boyfriends, husbands who were the the soldiers carrying with them to the battle field. In 1969, the business started by Madam Bach Thi Ngai Ngai expanded from pillow cases and embroidered towels to clothing, bed linen, table linen, mattresses and laundry bags, etc.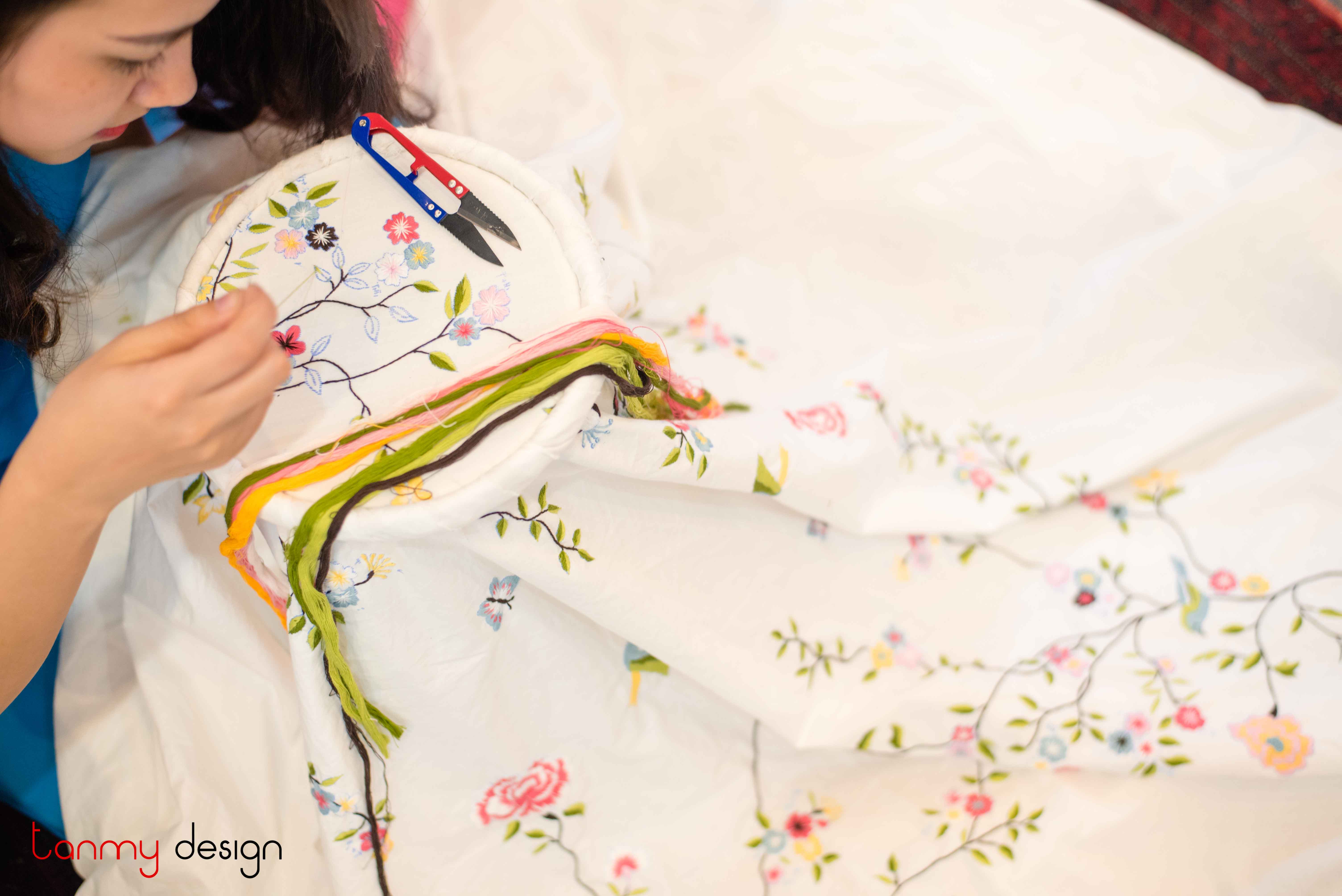 Artisan in the process of making the hand-embroidery tablecloth

In the heart of Hanoi's Old Quarter, on the old famous Silk Street of Hang Gai, there are two shops that bear the name Tan My, meaning "New Beauty". The original shop is at number 66, and its newer cousin at number 61. In many ways they tell the story of women in Vietnam, their place in the country's history and the fondness with which Vietnamese women are regarded.

First Generation
The shop began as a small venture selling embroidered goods. In 1969, with war raging in the country, the matriarch of the business, Bach Thi Ngai, was smart enough to realise that tradition does not stop in times of conflict. Young couples would always rest their heads on uniquely monikered pillowcases on their wedding nights. More importantly, soldiers going off to fight would receive hand-embroidered handkerchiefs from their mothers girlfriends or wives. These would carry messages like "I love you", "I will be faithful" or "I will wait for you". They became much valued mementos in a time of great struggle. Pillowcases and handkerchiefs became the foundations upon which the business was built.

Second Generation
Soon, Ngai's daughter, Do Thanh Huong, was helping with the skilled embroidery as she returned home from school each afternoon. These were hard times, the family was surviving on food stamps and were permitted only 300 grammes of meat per month. Still, after a full day's schooling Huong had to finish two pillowcases.
Over twenty five years ago, Huong took over the reins of the business, allowing her mother to enjoy some well-earned retirement. She began to modernise the business and branched out into products other than embroidery.
The original shop was a small windowless area up a small alleyway, which moved to its current location at 66 Hang Gai in 1996. You will still be greeted by friendly, smiling staff keen to show you endless examples of beautifully embroidered work. Seven years ago, the new concept store, Tan My Design, opened opposite, at 61 Hang Gai. In contrast, this has an almost entirely glass front and a classic facade. The family has no plans to open any more shops, preferring to concentrate on exclusivity rather than volume.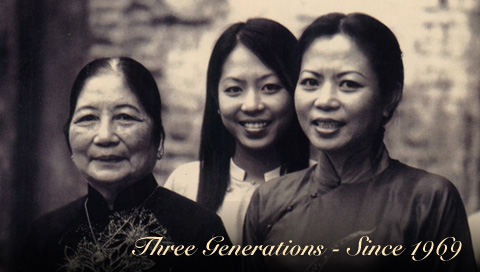 Third Generation
When Huong's daughter, Nguyen Thuy Linh got involved, the matriarchal family link continued. She is now the General Director of Tan My Design. The women truly love the business and are fully committed to it, stating that even if they won the lottery, they would continue to do what they love. Like her mother before her, Linh is bringing new ideas to the business, with a young and modern attitude.

Fourth Generation
Linh has a young daughter now, Kitty, who although only six years old in 2017, confidently assists visitors by bridging the language barrier. It would appear that the future is in good hands. Ever since the head of the family, Bach Thi Ngai, set up the business almost half a century ago, it has been managed with quality, customer service and value as its cornerstones. Her daughter and granddaughter learned well and continued in the same manner. There is no doubt that the great-granddaughter will carry on the tradition.

The Future
With Tan My Design, Huong wanted to showcase the best of Vietnam, and it has become an iconic destination in Hanoi, featuring many of Vietnam's top designers. Huong and Linh are dedicated to Vietnamese products and their
own Tan My Design label fits in perfectly with the other well-known brands. Customers include locals and visitors alike, with many famous dignitaries and royalty among the regulars. The cafe inside adds yet another touch of class, so shoppers and visitors can take a break and relax.
With such strong family commitment, the future looks bright indeed for this traditional yet fashionable business that has become one of the most respected in the country.
Four generations of Tan My Embroidery (Taken December 2016)

Tanmy Design's embroidery tradition on VnEpxress
Tanmy Design at E-Commerce