Tanmy Design's Loyalty & VIP Client's Program
Tanmy Design's Loyalty Program is launched with the desire to give our customers the best benefits when buying at our genuine store & online. Customers will enjoy the following privileges when joining and becoming a loyal customer of Tanmy Design.

Features: Accumulate points – Use points
1. Conditions of application:
• Accumulate points for retail customers at Tanmy Design's stores, including customers who shop online according to the registered phone number.
• Use points applied to customers who buy products directly at the store system or online.
2. How to convert points
Conversion rate: 100 points = 100,000 VND
Customers can use the accumulated points to pay for the next shopping. The number of points used cannot exceed 50% of the invoice value.
Accumulated points will expire after December 31 every year.
* Note: In case the customer does not provide enough information to accumulate points, Tanmy Design would not apply points for that purchase.
​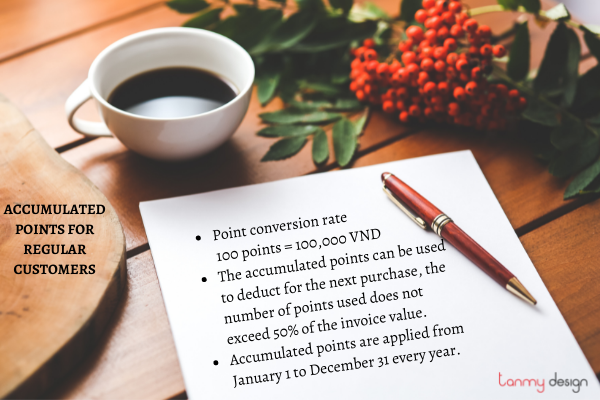 VIP CUSTOMERS
1.Conditions to become a VIP customer
Invoice for 01 purchase (shown on invoice) is at least 10,000,000 VND
2. Benefits for VIP customers
VIP customers can shop with 10% discount on full price products (5% for jewelry valued at over VND 20,000,000).
VIP customer card is valid for 01 year.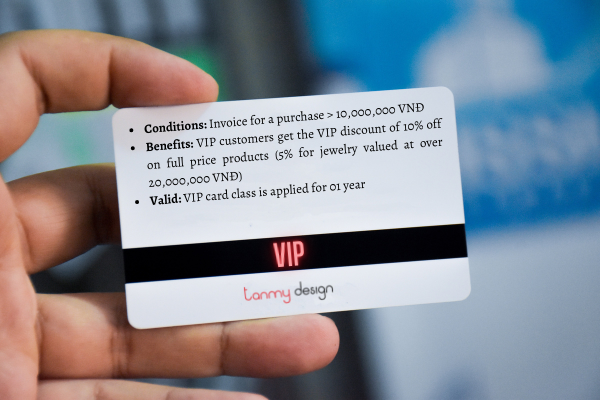 Tanmy Design at E-Commerce